Yesterday, I had a wonderful opportunity to talk to Utah's 2nd District Congressperson, Jim Matheson.  He came to the Hinckley Institute of Politics on campus at the University of Utah.  After making some opening comments, he opened up the forum to discussion and student questions.
Jim Matheson is on the House Committee for energy and commerce.  Listening to and talking with him gave me new confidence and hope for Utah politics.  He believes we need a rapid transformation in our country, especially in terms of energy use.  He had enlightening responses on questions involving the economy, health care and the housing crisis.
Overall, he spoke to us, a group of University students, with honesty on an eye-to-eye level.  We hear so many politicians that speak at us, instead of to us, and it was refreshing to interact with a real person, whose nose did not keep growing like Pinocchio with each ensuing lie.
Here's a picture of me with our newly re-elected Congressperson: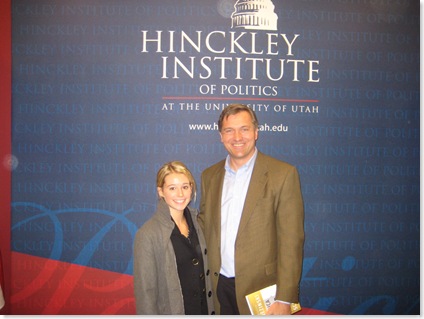 For more information on the Hinckley Institute of Politics, including upcoming forums, check out this site:
In our country right now, it is so important to have these discussions and talk about taxes, oil, big government bailout bills, health care and everything else.  We are the generation that is going to be paying for this.  We cannot simply ignore these issues.  I have received some comments from readers who want to see more ski pictures and more talk about ski community events.  I promise I will keep those blogs coming.  But please, let's open up these dialogues and keep them in our minds right now.
On another note, Alta is opening this weekend (Nov. 15 and 16 and then for the season on the 21).  Alta is doing a coat drive to collect warm, winter coats for homeless individuals in Salt Lake City.  If you bring a clean jacket to the Wildcat Ticket Office between 11 am – 4 pm on either Saturday or Sunday, you can get a FREE lift ticket.  So please, go through your closet and see if you have something you aren't using so that we can keep those less fortunate people warm during our cold, snowy Utah winters.  I can't wait to see everyone there!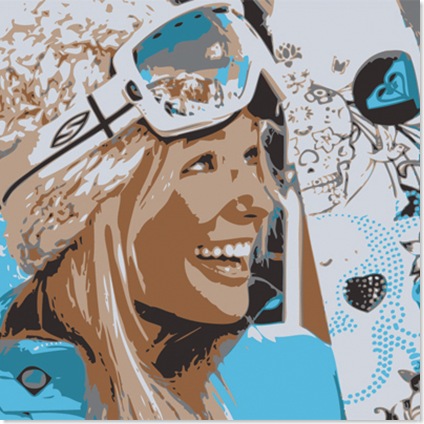 Photo by Alexa Miller, editing by Chris Pearson.