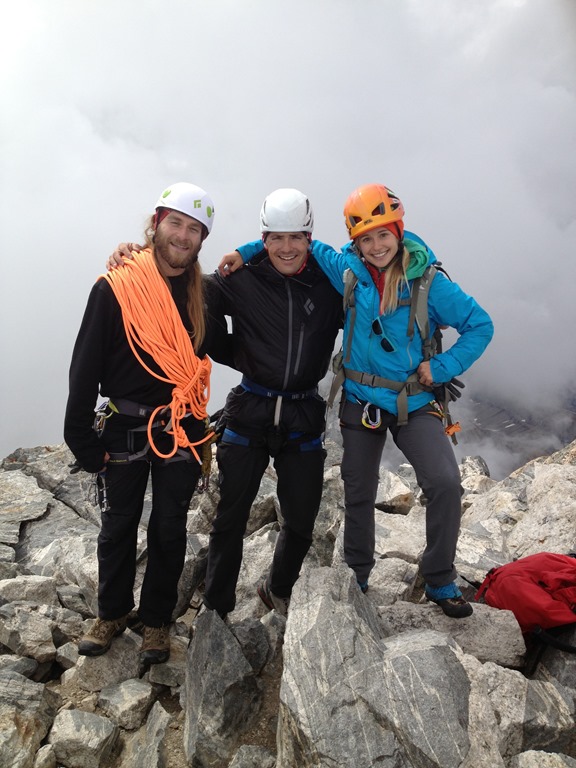 If I could summarize the chain of events that led me to the summit of the Grand Teton on August 27, 2013, I would say it all began sitting on the john at my friend, Greg Von Doersten's house in Jackson in early May. I was there attending a ski mountaineering course with Exum Guides. While sitting on the john, I was drawn to the stack of magazines he had graciously offered for guests and I picked up a copy of his 2012 American Alpine Club (AAC). Membership Guidebook. After I spent a few minutes reading it, I knew I had to sign up to become a member immediately. I was drawn to the beta on backcountry huts and the global insurance, as well as the inspiration about new climbs. As soon as I got home to Salt Lake City, I bought my first AAC membership.
With the membership, I got the newer guidebook and a copy of the 2012 Accident reports. Always wanting to increase my knowledge, I spent a lot of time reading the accidents and trying to figure out what went wrong. Fatigue seemed to be a common cause of tragedy in the mountains.
From the AAC Guidebook, I learned about the Craggin' Classic, a 3 day climbing event happening in my hometown of Salt Lake City, UT. I learned that there would be parties, meals, but what attracted me to the event was the clinics. I could take up to 3 clinics for only $50, which was be a perfect way for me to brush up on the technical rope and anchor skiills I needed to reach my ski mountaineering goals. The first clinic I signed up for was "Multi-Pitch Transitions and Efficiency," and it was here I met Nate Smith with Mountain Ed, who would be my partner for the Grand Teton. I had very specific questions for him during the clinic about ski mountaineering and he happily answered and gave me great advice. We started talking about training goals and soon realized we had similar and complementary goals. He wanted to push his skiing, and I wanted to increase my proficiency with rope work for rappelling and learn ice climbing. We started talking about possible objectives, and he mentioned wanting to do a one day ascent of the Grand Teton from Salt Lake City. On Sunday, I mentioned I was free Tuesday to do the Grand. We checked weather, it looked reasonable, went over gear and planning and amazingly, Monday night, we were leaving, with his fellow guide Cam Doane, to ascent the Grand. I had skied lines on the Middle Teton and others in the park, but it was my first time attempting the Grand. I was nervous and excited, giving this big mountain the respect it deserved.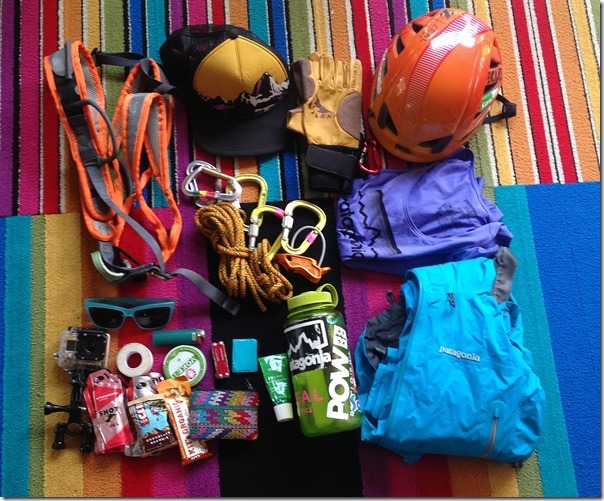 The beginning of packing…
We left Salt Lake City around 11 PM and went north up to Jackson. We took turns driving so we could all get a little snooze in. The whole night, I was anxiously watching the stars, and they were not very visible, mostly obstructed by a high, thing cloud layer. Having spent a bit of time in the Tetons, I knew that weather could work against us in a big way. We arrived at the Lupine Meadows parking lot, went over gear, repacked our packs and were off. It was about 4 am.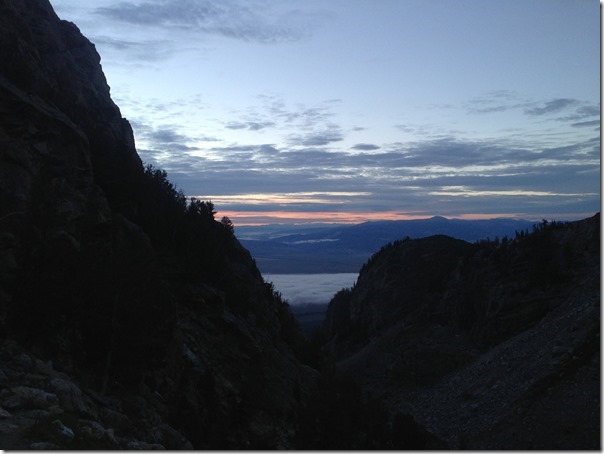 Sunrise (ish) in Garnet Canyon.
The clouds were in and out, moving fast, sometimes too fast for comfort. The sunrise was obscured by layers of clouds over the valley. We quickly ascended the six switchbacks to the Meadows where we refilled water. From here, we set our sights on the lower saddle where we would reassess. We were quiet, vigiilant, listening and hearing for lightning or thunder, hearing every plane taking off from the quaint Jackson airport nearby. At one point, we heard the prolonged roar of rockfall.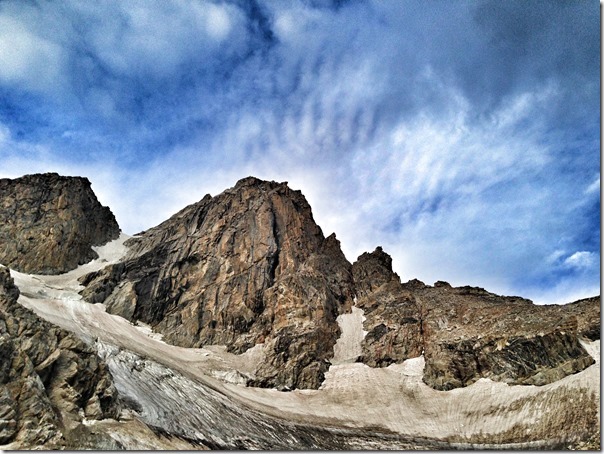 The Middle Teton glacier.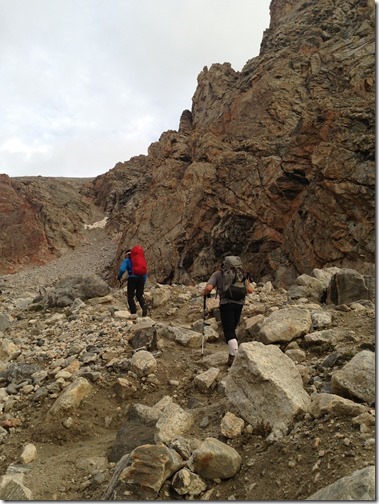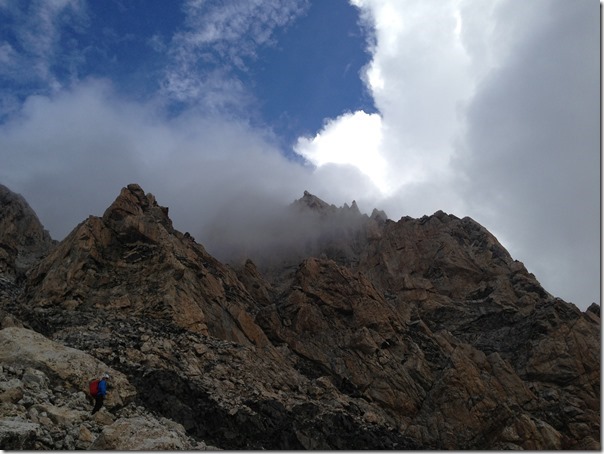 Nate taking stock of the situation.
Near the lower saddle, we talked with some other climbers who told us that the day before it had rained and hailed violently around 3 PM. They said the weather looked similar today. It was around 8 am. We figured we'd keep going, but with the clouds and fog looming, we changed our route. We wanted to climb the Upper Exum, but that doesn't offer an option to bail easily if lightning were to come earlier. Instead, we decided to do the Owens Spaulding, so we could turn around at a moment's notice if necessary.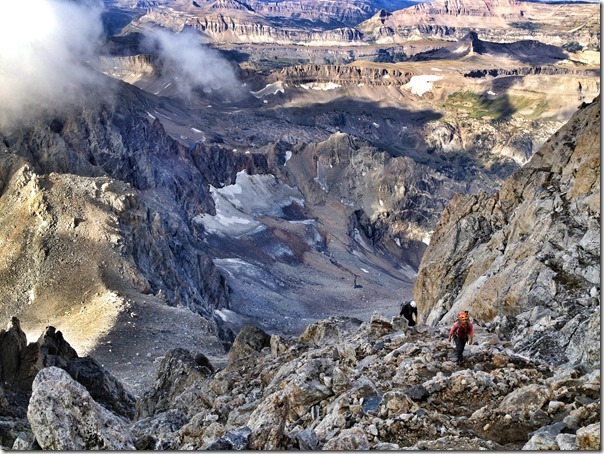 Ascending above the lower saddle.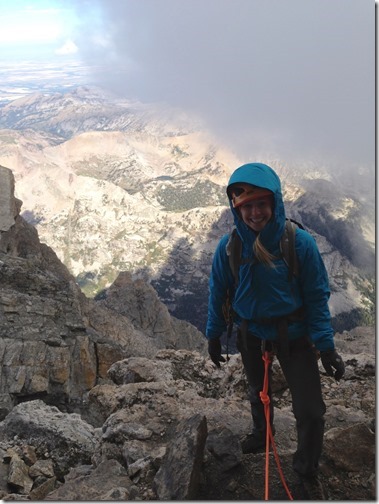 Having so much fun!!!
As we continued ascending, we saw a few groups going up or coming down. We spoke with a guide who said there wasn't anything on the radar for awhile. So we pushed on, steadily. Nate had done the route five years earlier and had an amazing memory for every detail. Above the lower saddle, we roped up and started climbing. We encountered pockets of frozen hail and sleet on the route, and it was wet, cold and dripping. The climbing wasn't challenging, but the mud and wet, slippery granite stepped up the rating a notch or two.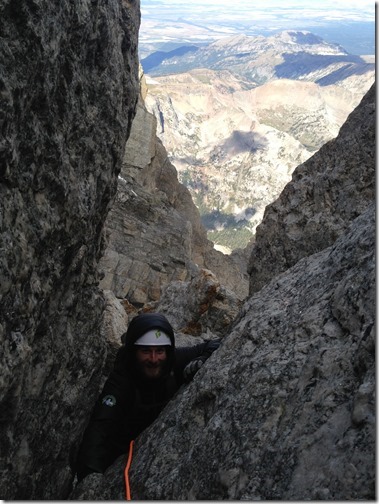 Cam, smiling through the birth canal.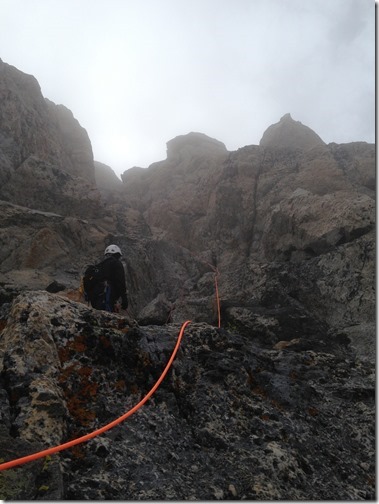 The clouds were swirling in a dark, mystical way and most of the views were obscured except for sucker holes. We moved efficiently as a team on the pitches of climbing. As we neared the top, a hole opened up, and we could see the summit was within reach. It was a happy moment, but every climber knows the summit is only halfway, there is still the descent.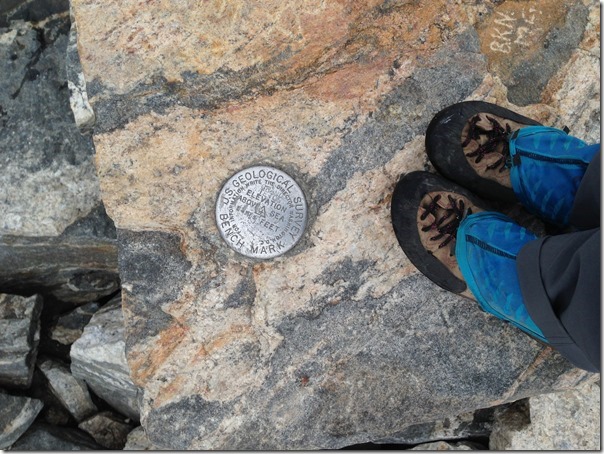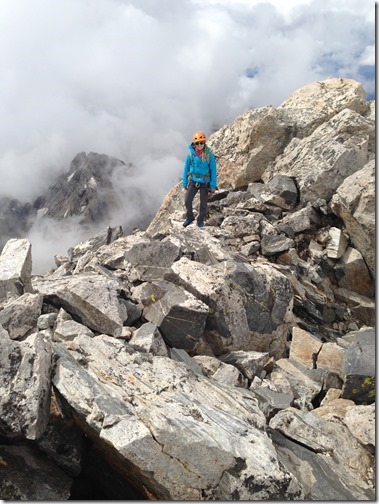 Summit stoke with a hint of backdrop scenery… I'll have to go back again soon so I can see the entire view from the top.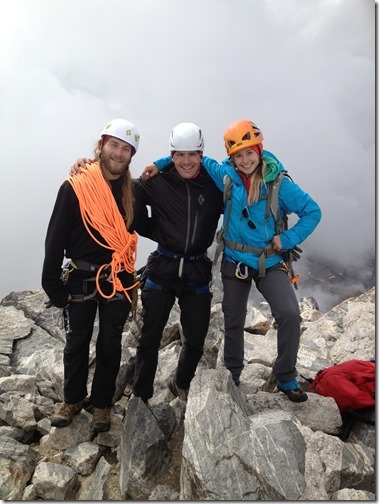 Yah team! We're still coming up with a team name.
We reached the summit, took some photos, had a snack and drink, and started descending, easy downclimbing to the first rappel.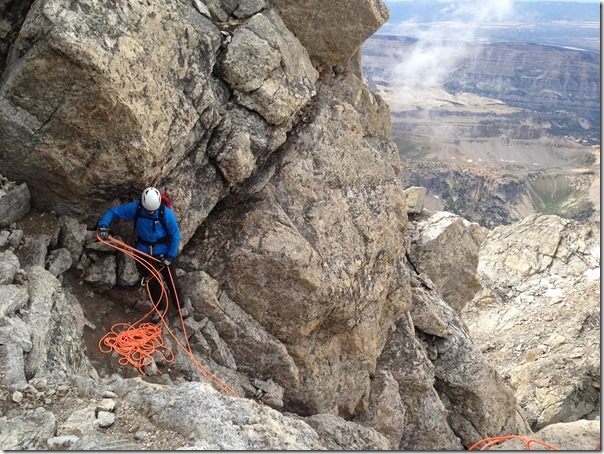 Nate flaking the rope.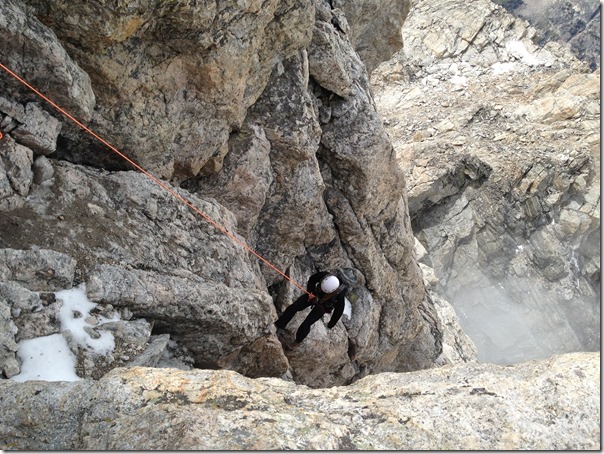 Cam on the first rappel.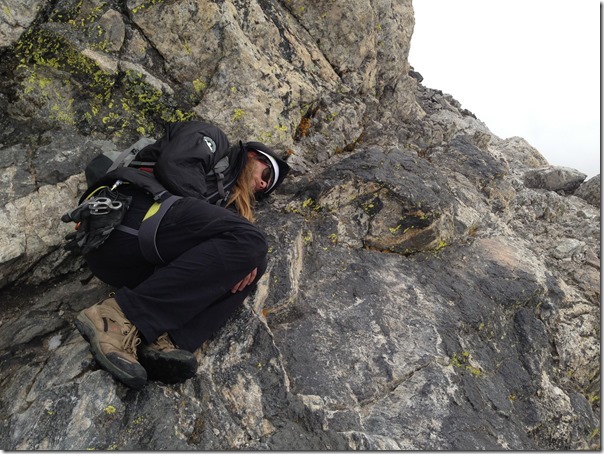 Cam taking a rest between raps.
The weather window was holding, but we didn't know how long. We did the next rappel with a fun overhanging section and then started hiking down.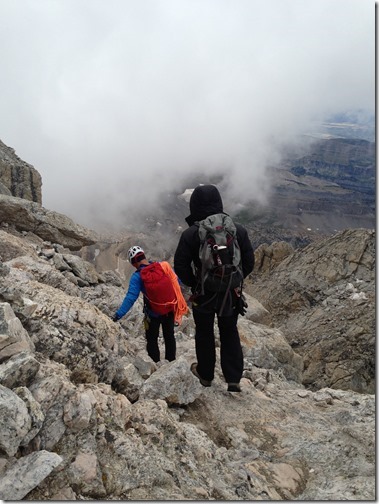 Walking to the second rappel.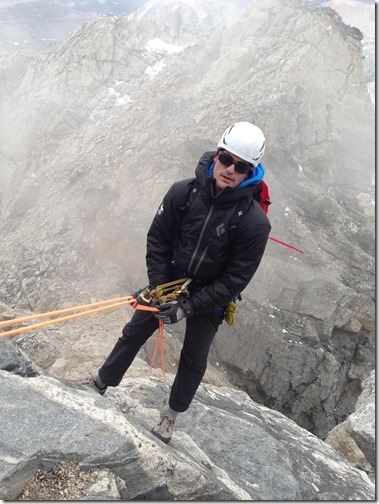 Nate Smith on the second rappel.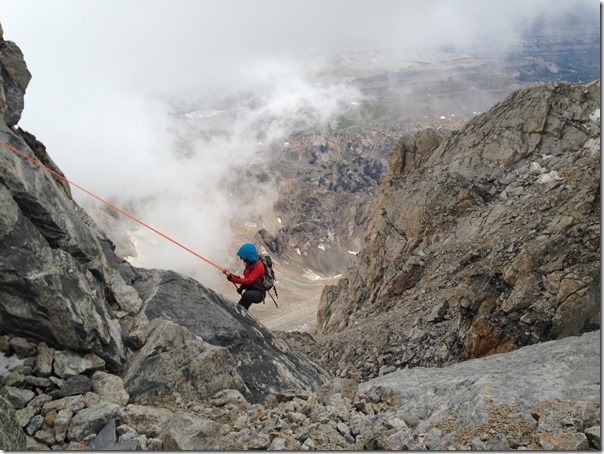 Dropping in on the second rappel.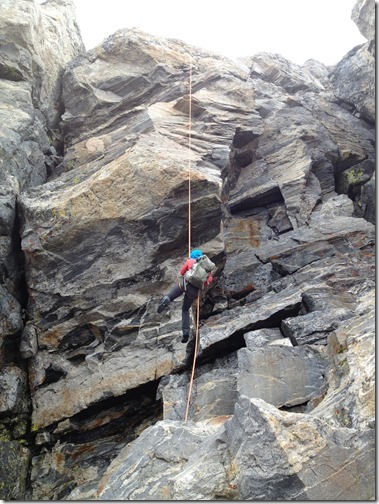 Me on the second rappel.
We reached the lower saddle and could see imminent thunderstorms. We hung out for a few minutes, changed socks and layers, and had another snack. As much as we wanted to relax and have a moment to take in the views and savor the experience, we knew we had to move.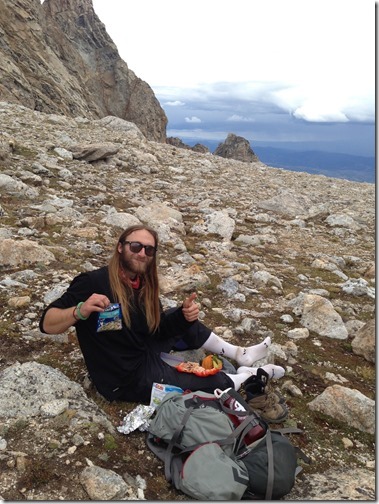 Wanting to chill, but ready to move.
Once we were a little ways beyond the lower saddle, the storm came with a vengeance. First, there was a pitter patter of rain, but it quickly turned into a torrential downpour. It was like a river in the trail, cutting new twists and turns, then it turned to hail, beating down on our heads and bodies. We managed to get our rain coats on in time, but we didn't bring rain pants, and we were soaked head to toe. near the meadows, the lightning started, but thankfully there were only two strikes so we could continue our descent. We stopped to fill up water and talked to some guides. The rockfall we heard earlier had buried a man, and he had to be evacuated via helicopter with multiple compound fractures to the legs, arms and an amputated finger. It put a bittersweet note on our stoke from summitting. I couldn't get this out of my head – I felt lucky to be alive. Apparently, the large amounts of rain after a mostly dry summer had caused the rockfall to unleash. The Tetons demand respect.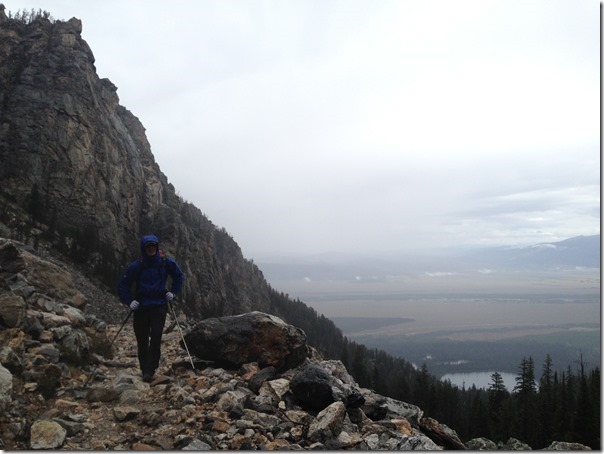 Obviously, I didn't take many pictures in the rainstorm, but here's one as the rain was beginning to subside.
Another hour or two in squishy boots and we were back to the car. It felt great to take off the wet clothes – I did my obligatory river plunge after a big day in the Tetons (helps with muscle recovery), dried off, changed and we were off to get food, and begin our drive home to SLC. We had burgers at fries at the Local bar, and wearily took turns driving until we got home.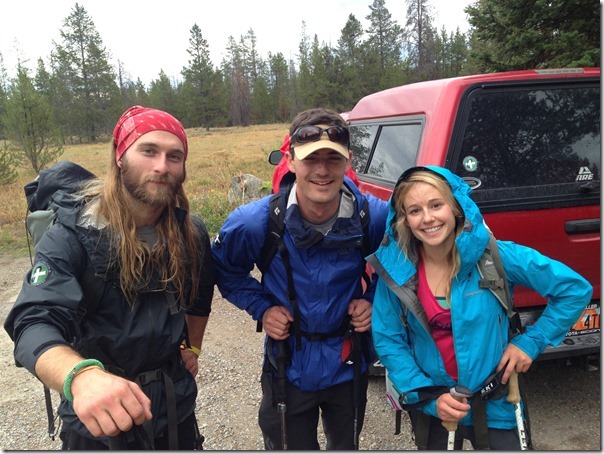 Yah! Back at the car!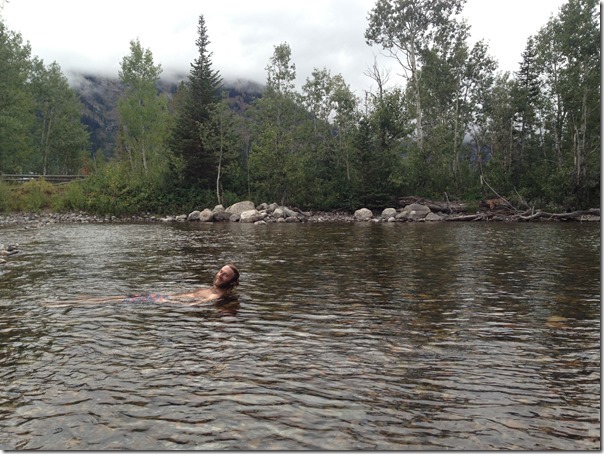 Cam demonstrating the poler plunge.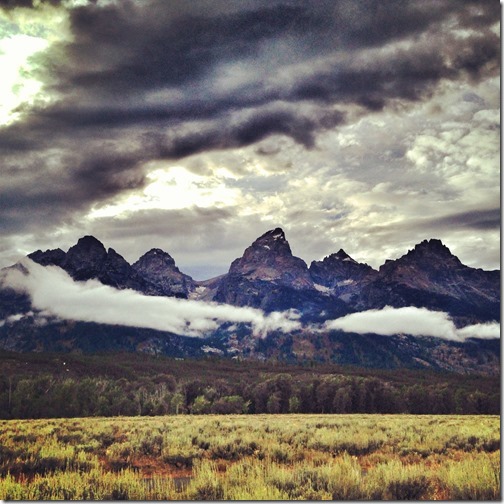 Looking back at where we came from…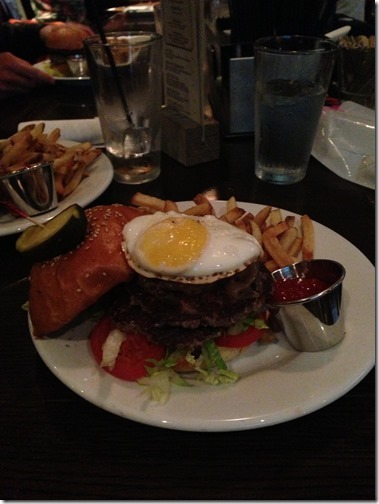 (double double burger with a fried egg on top)
Overall, I'm thankful that I joined the AAC, took the clinics at the Craggin' Classic and met Nate and Cam. Often when you meet people, you talk about doing things but it is hard to make them happen. Nate had a very specific schedule, and I thought we should try and get out right away to establish a partnership to form the groundwork for further adventures in the winter. I was surprised that they were able to pull off a Grand Teton summit with such short notice. Together, we were an amazing team and I look forward to many more adventures with them!