This season, while we are debating what to get for our friends and family, we need to consider the impacts our buying decisions have on people throughout the world. In our country's current state, one of the only true ways we can voice our preferences is through our buying decisions–essentially, voting with our checkbooks. We need to look at the big picture.
As you are shopping, ask yourself, where this product came from? How was it made? Think about how oil intensive most products are and ask yourself, do we really need this?
Who made it? What toxic chemicals was this person exposed to during the manufacturing process? How many hands have touched this to bring it to me, here in America, and does the price really reflect this? Often, price and value are inconsistent.
Consider buying used. Thrift Town is one of my favorite thrift stores. It's clean, bright and organized. In the front of the Salt Lake store, you can find antique and vintage jewelry. There are also great t-shirts, toys and other home furnishings. Craigslist is also great shopping resource. Look at an item to see if a little soap and elbow grease could clean it up and make it beautiful and usable again.
If you need to buy something new, try to find things that are made out of sustainable or recyclable materials.
Here are some ski and outdoor related ideas: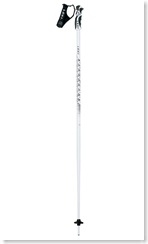 Leki Project 19 Poles–
The shafts are made from aluminum and the grips are made from reclaimed plastic and rubber. They are 98% recyclable. They are made in an advanced production factory where recycling and reusing occurs whenever possible.
Smith's evolve series: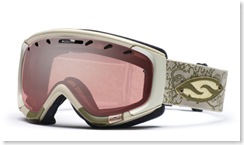 Smith optics is now making a line of helmets, goggles and sunglasses out of recycled and renewable based materials. The goggles are made from 98% re-ground urethane, reducing their dependency on virgin urethane.
The helmets have a lining made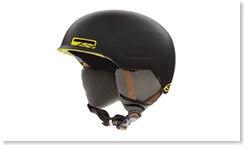 from Evolve X-Static fabric that is fully recyclable at the end of their lifecycle. X-Static won the Oeko-Tex Standard 1000 accreditation, which certifies the absence of toxic substances in the manufacturing process.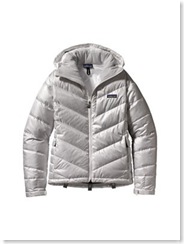 Patagonia Women's Pipe Down Jacket:
The lining is made from recycled used soda bottles, usable second quality fabrics and worn out garments. This jacket is made to last and has a timeless sophistication that is sure to keep you warm (and whoever you hand it down to) for years to come.
To find out more about Patagonia's manufacturing, check out this recent article I wrote for Skiing's website:
When wrapping your gifts, use recycled newspaper, fabric scraps or anything you have handy. Also consider buying local gifts. There are many great holiday arts and craft fairs where you can buy hand made products that support a vibrant local economy. You can talk to the people who made the stuff to find out exactly what it was made with.
Finally, think about the end of life disposable of the product. Can it be recycled? Will it last?
If there's someone on your list that you need to buy a gift for but can't figure out what, buy them a pack of CFL light bulbs to save money on their electric bill, or a bar of soap. Small changes, like replacing your light bulbs or using bar soap instead of liquid packaged in plastic, can go a long way to preserving the planet.
Merry Christmas everyone!