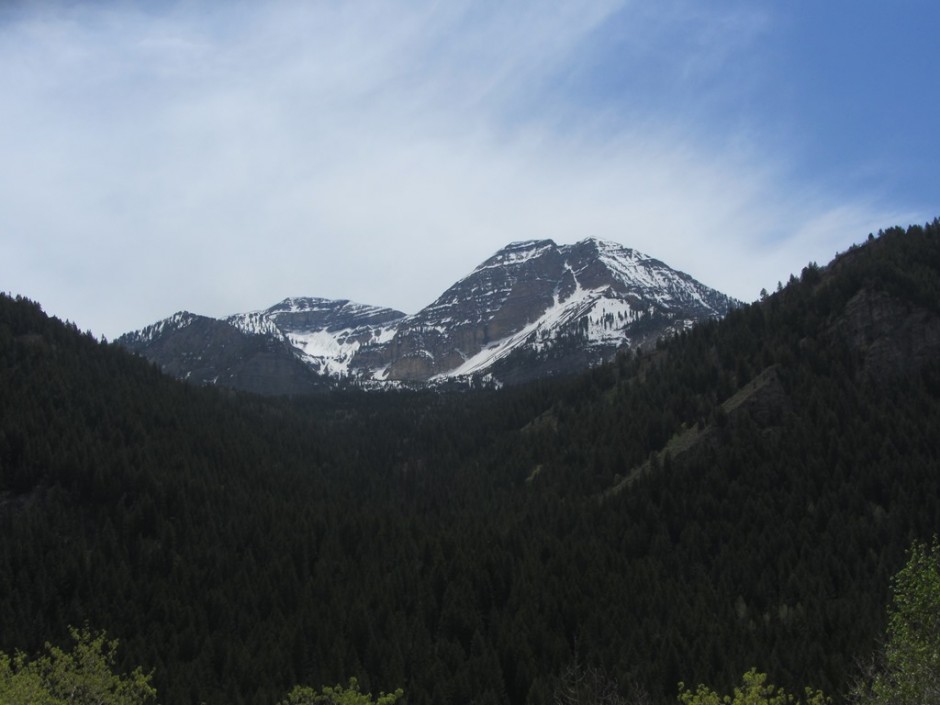 For me, a lot of my motivation to ski a line comes from seeing it. What I love about living in the Wasatch is that there are so many skiable peaks that you can see from the city. You can scout your lines as you run errands. In the case of Cold Fusion, it was on a drive down the I-15 to a party at Sundance. The line looked perfect that day, and I couldn't get it off my mind.
Fast forward two weeks, I was hungry for a new adventure, so I called my friend Adam OKeefe of tetonsandwasatch.com (one of few, motivated ski touring partners left this late in the season), and we planned it out. Alpine start, bike to base of couloir, hike and ski (our version of a mountain triathlon). Unfortunately, we didn't scope it again before we went. Which is both good and bad. If we had scoped it, I definitely wouldn't have gone. But ignorance is bliss, so we kept the wheels in motion, literally.
We met early in the morning, loaded bikes, and drove up American Fork Canyon as far as we could. It was an eerie, warm night and halfway up the canyon, there was a cloud of dust and active rockfall coming down – I gunned the accelerator without hesitation and charged through. It was scary and my heart was racing – I remembered a story of a rock killing someone in their car in Big Cottonwood – and I hoped it wasn't going to set the stage for the day.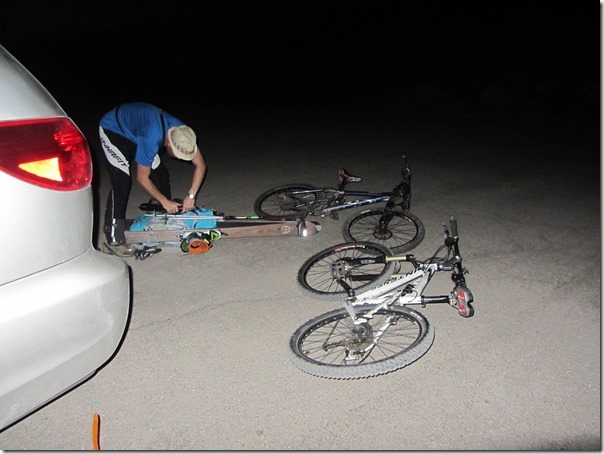 Somehow I had this notion that riding bikes to ski would be so easy and fun. The roads aren't too steep, it would be efficient and relaxing. Turns out, pedaling with 30 lbs of ski weight on your back isn't easy at all. Next time I'm going to rig up some sort of ski carry system on my mtn bike with Voile straps.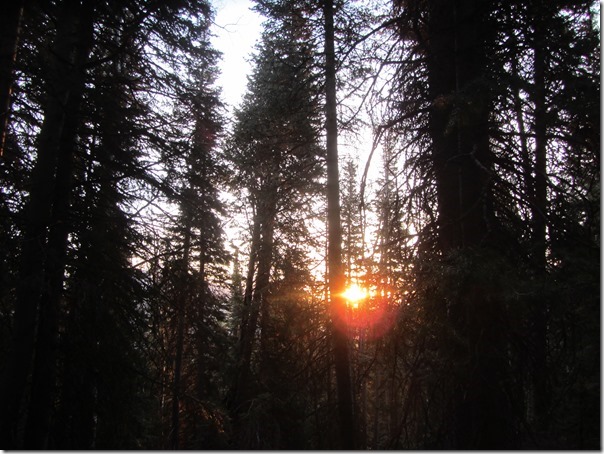 But sunrises like this make all the suffering worthwhile.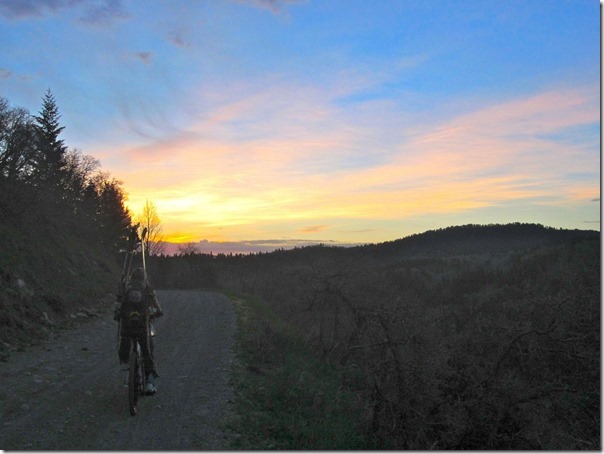 photo by Adam OKeefe, tetonsandwasatch.com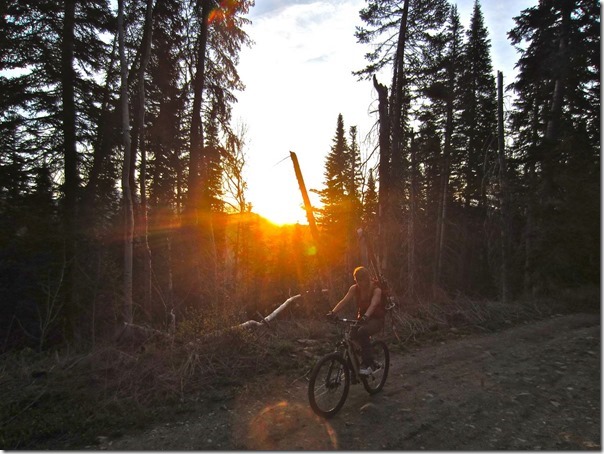 photo by Adam OKeefe, tetonsandwasatch.com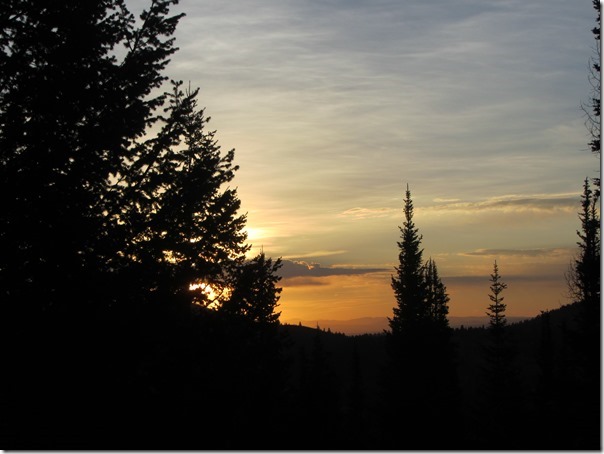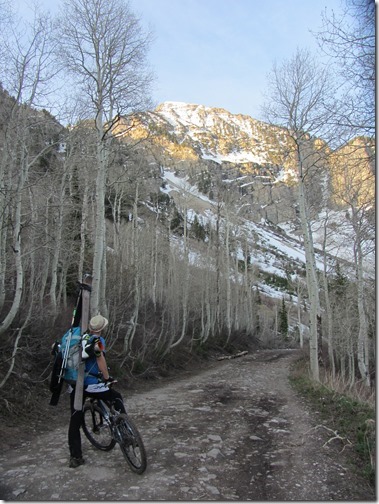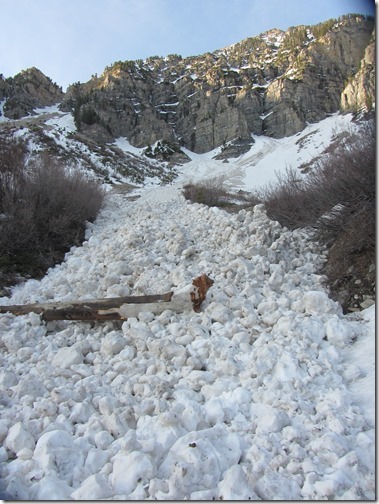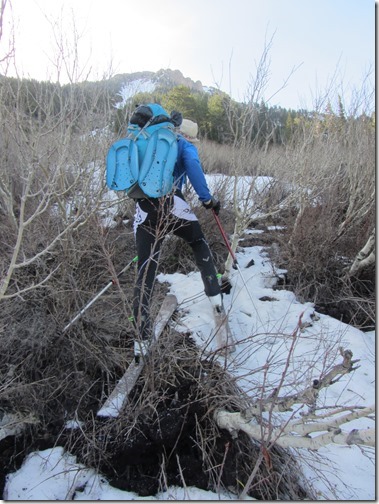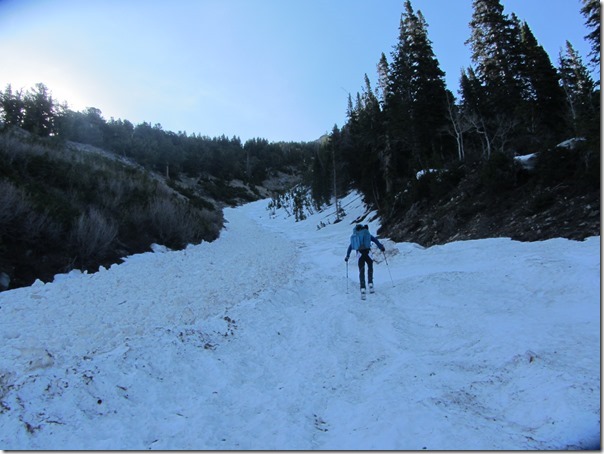 After biking for a long time, it felt so nice to be skinning.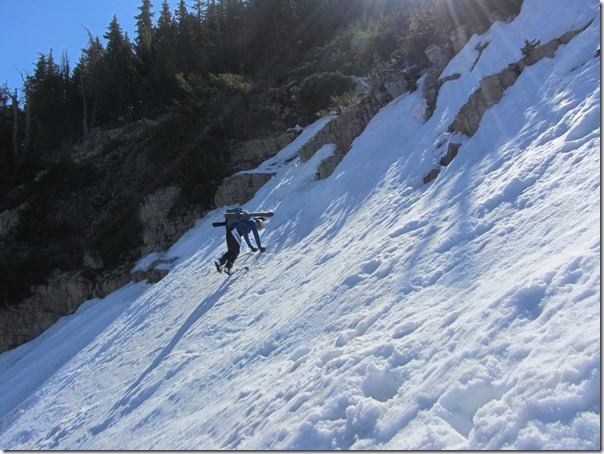 And then booting…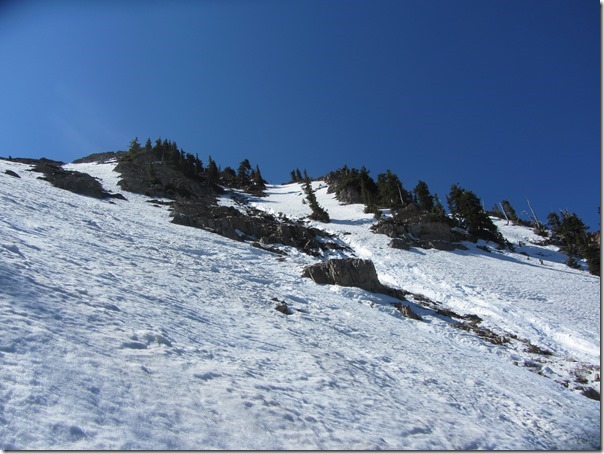 We were hoping the snow had stayed nice in the high North facing after three days of heat. Instead we found thin sugary patches with an inch and a half of frozen crust on top. We made it as high as we could safely (which was almost to the top) and then decided to ski.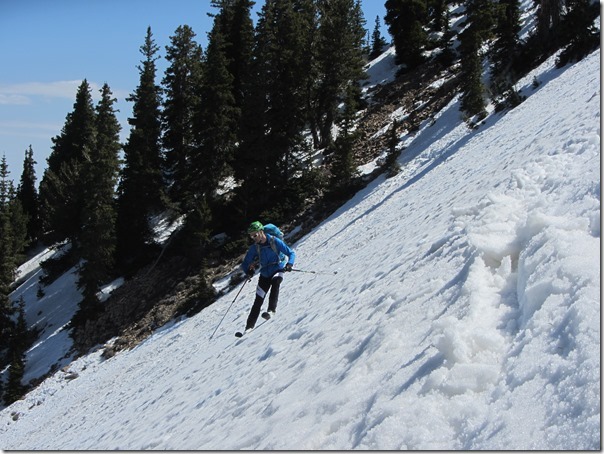 At least the crust was supportable!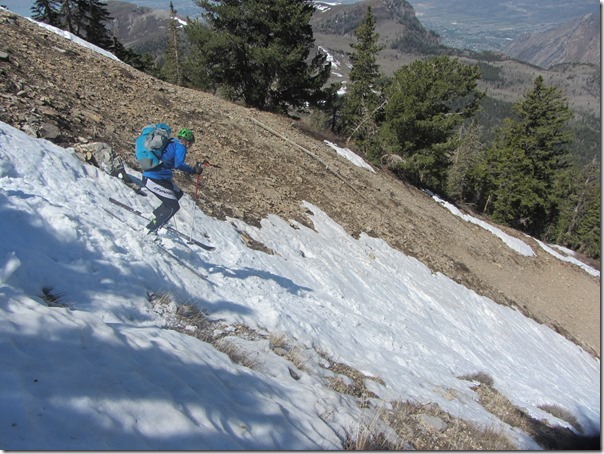 And we could link the patches of snow the entire way down.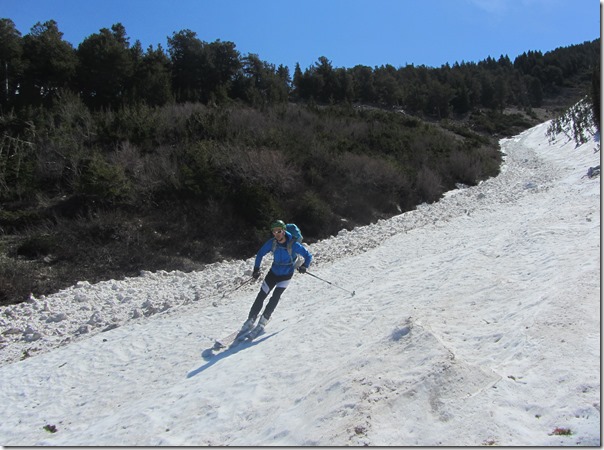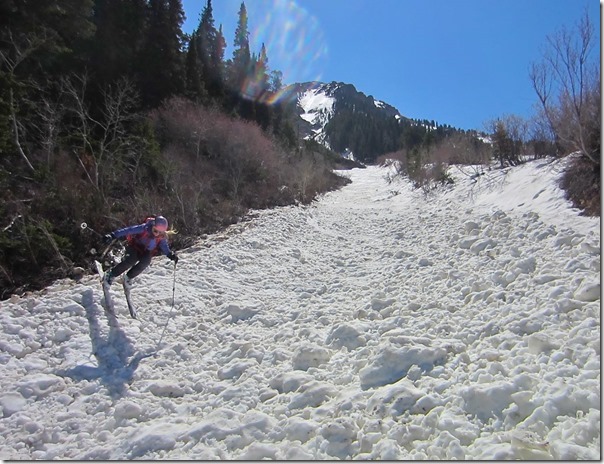 Getting extreme in avy debris. Photo by Adam OKeefe, tetonsandwasatch.com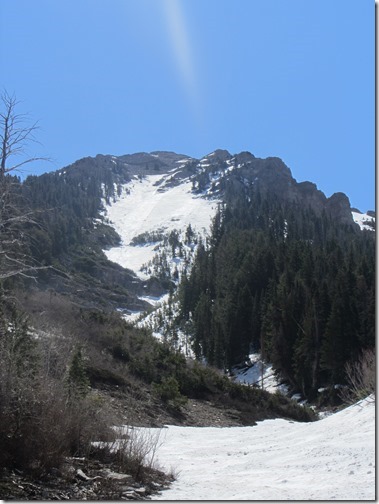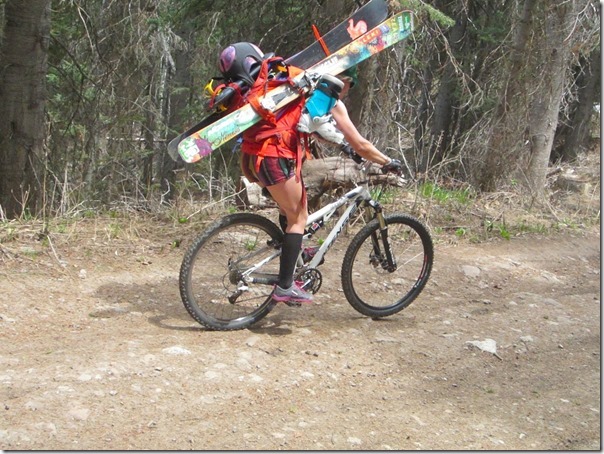 Suffering on the way up turned to bliss on the downhill – me enjoying the wind in my face. Photo by Adam OKeefe, tetonsandwasatch.com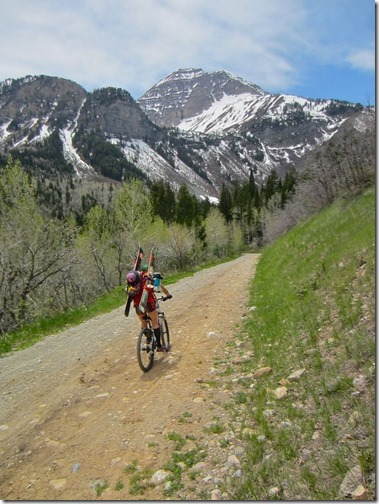 Thankfully, we didn't witness anymore rockfall on the trip, but I kept my eyes peeled anytime we had a steep wall above us.
It was my first time skiing or climbing Mt. Timpanogos! I can't wait to come back and explore other lines of this beautiful mountain.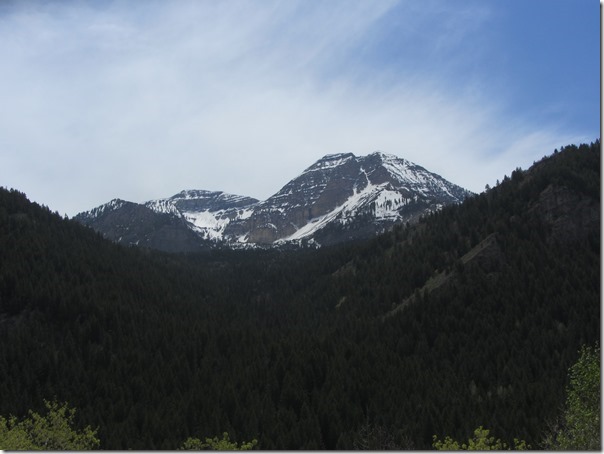 Back at the car, thoroughly exhausted, legs feeling like Jello, coated in mud splatter, I proposed we take a swim in the Tibble Fork Reservoir to complete a mountain Triathlon (technically a mtn quadathon – bike, hike, ski, swim, but triathlon sounds better). It was the perfect ice bath finish for muscle recovery and to reenergize us for the rest of the day.
Next year, I will be back for Cold Fusion from the top!